I can never think of anything witty or funny... I like the idea of using a line from a song like
Krissie
does but I don't want to a copy-cat. And I'm overthinking this because titles really aren't that important are they? LOL On to other things...
Several blog friends have been doing the six word thingie (a 6 word sentence that sums up your life so far is what it is supposed to be I believe).
Cammy
posted hers yesterday("I learned in time to live") and I just love it! So after some thought, I came up with mine:
I am stronger than I thought.

That sums me up in so many different areas of my life both now and in the past. I've done things that I never imagined possible and survived through some bad stuff... and I'm stronger for it all.
Today has been a rest day exercise-wise and overall, it's been a great day. I took the girls to
Coffee and Scream
this morning, where we met with my cousin and her girls. Then we came home for lunch and naps and walked to the park this afternoon to play. It was really nice to have a whole day with them to do stuff seeing as T had no school due to Spring Break.
Food-wise... well, I'm over in points today by a few. I just couldn't resist eating the rest of the yogurt covered raisins from Easter. But I tracked them all and this is the first of any flex points I've used this week so it's all good. Sooooooooo yummy!
Lastly, I wanted to post the recipe for my spinach and feta omelet. I make this a few times a week, usually after a workout and have finally gotten the points down to a very reasonable amount. And it is really really delicious!! Even if you think you don't like spinach, you'll like this omelet!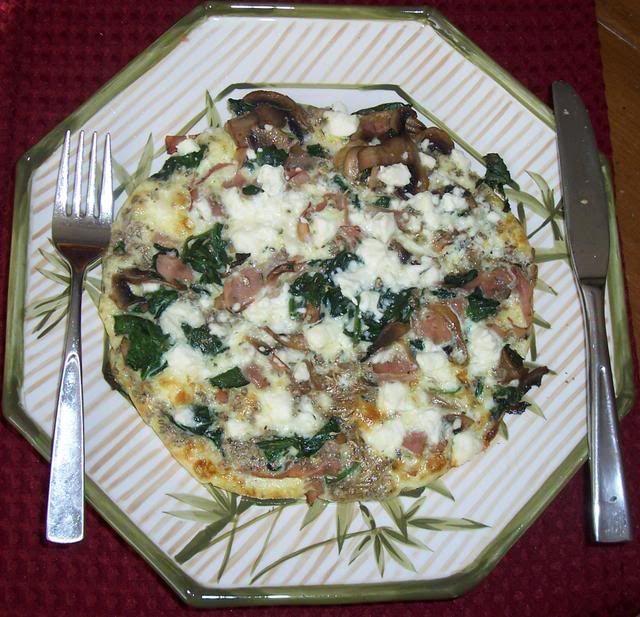 Spinach and Feta Omelet

100 grams Omega 3 Break Free Eggs (or two large eggs if you prefer)
60 grams fresh spinach (could also use the frozen stuff, thawed)
4-5 small mushrooms (depends if you like mushrooms or not)
35 grams fat free ham, cut up into small pieces
30 grams feta cheese (I really like feta.. you could half this if you want to reduce points)

pinch oregano
1 tsp. oil

couple tablespoons water

Sautee sliced mushrooms in oil over medium heat in frying pan. Once they have started to cook, add in ham, spinach and water.

Cover so the spinach can steam and reduce heat a little bit. After a couple of minutes, remove the lid so excess water can evaporate.
Mix oregano into eggs and then add mixture into the frying pan. Sprinkle feta on top.
Let cook for about two minutes, then place in preheated oven under broiler. Remove when egg is fully cooked and top is slightly browned.
Total points: 5.5 (or 7.5 if you use real eggs)
Variations: Sometimes (when I have it on hand), I throw in some shredded frozen potato a bit before the mushrooms. This is really delicious and bulks up the omelet even more. I think 2/3 cup of the potato adds 1.5-2 points.